About Halteres
Halteres Associates, a Delaware (U.S.A) limited liability company (LLC) founded in 2002, is a leading bioscience consultancy comprised of more than 150 professionals with extensive, long-term, direct operating experience in a broad spectrum of areas of expertise, including the development and commercialization of diagnostics, medical devices, therapeutics, research reagents and bioscience tools.
Halteres team members have been personally involved, at direct operating and senior management levels, in the planning and growth phases of several of the industry's most successful diagnostics ventures, including Abbott, Applied Biosystems, Affymetrix, Bayer, Cepheid, Chiron, Ciba Corning, Life Technologies, Ortho, Roche, Siemens, Ventana and others.
Areas of Competency
Areas of core competency include research, product and process development, design for manufacturing, strategic planning, due diligence, business development, market development, portfolio planning, business and financial modeling, impact analyses including health economics and reimbursement, clinical study design and management, regulatory strategy, sales and marketing, clinical laboratory management and much more. Halteres leverages these individual skills by assembling customized consulting teams that best meet the unique needs of its clients. The interactions of these experienced team members and the resulting syntheses of ideas and actions provide clients with the greatest value and set Halteres apart from other consulting firms.
A Global Team Serving a Wide Range of Clients
Halteres team members are based throughout the world (North and South America, Europe, Asia and Africa) and have operating experience in companies of all sizes. Our clients have ranged from small two to three person startups to large multinational companies such as Roche, Siemens and General Electric to non–profit organizations such as the Bill & Melinda Gates Foundation and WHO/UNITAID. Halteres has worked with the Gates Foundation since 2005, completing several projects aimed at delivering diagnostic products to the developing world.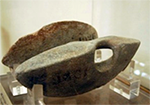 What are Halteres?
In ancient Greek sports, halteres were stone weights that were held in both hands of an athlete to provide momentum and allow them to jump a greater distance. In a similar fashion, Halteres Associates helps its clients to achieve greater success with their products and technologies.